Four Pillars of Obesity Medicine
One of the four pillars of the Obesity Medicine Association is Behavioral and mental health support. There's no doubt that significant advances have been made with regard to surgical and pharmacological intervention for obesity treatment. That said, until recently, there have been few evidence-based programs that address the scope of mental health disorders that lead to emotional eating, and the development of obesity, type 2 diabetes, food addiction and cognitive impairment.
BreakThrough! is a robust program endorsed by the American Counseling Association, NADAAC & NBCC (2018).  In our program we talk about food addiction and our clients typically complete the Yale Food Addiction Scale (YFAS) before reaching out to us. The YFAS focuses on six behavioral clusters that indicate a patient may have a dysfunctional relationship with food. While we encourage our patients to use this screening tool, we follow up with significant patient education including the cycle of emotional eating to teach our patients the skills and mindset that support recovery.
Cycle of Emotional Eating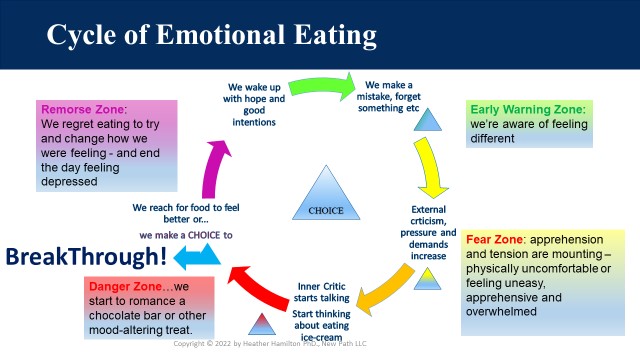 Recognition to Recovery
An important aspect of talking about food addiction is normalizing the cycle of emotional eating for clients. Early on in the BreakThrough! program we separate character (identity) from task (choice). Most people have all the positive traits they need for a lifetime – we focus on what our patients can think or do differently! This differentiation is critical to overcoming the inner critic and other self-defeating attitudes and narratives. Throughout the chapters and online coursework, our clients are recognizing "choice" points, and with this awareness they pass from a mindset of resistance to resilience. BreakThrough! may be the pillar you need for a truly integrated approach to treating obesity. The course materials are supported through a comprehensive online learning management system and easily supervised by health and wellness practitioners and coaches. If we can help your organization implement behavioral change, Team BreakThrough! is here for you!
Heather Hamilton, PhD